PREP@UCD applicants must…
hold a bachelor's degree in a biomedically relevant science from an accredited US college or university awarded no more than 36 months prior to applying
have a GPA of at least 3.0.

if you have an overall undergraduate GPA < 3.0 and a master's GPA > 3.0, we can consider you.
if your undergraduate GPA is less than 3.0 and you lack graduate coursework, we cannot review your application. This criterion cannot be waived.

be citizens or permanent residents of the US
be a member of a group underrepresented in biomedical research as defined by the NIH/National Institute of General Medical Sciences: (a) individuals from underrepresented racial or ethnic groups, i.e., African American, Latinx, Native American, Native Hawaiian or other Pacific Islander; (b) have a documented disability; or (c) come from a disadvantaged background. Please see the NIH/NIGMS website for specific details.
intend to pursue doctoral study in the biomedical sciences, i.e., a PhD, MD/PhD, DDS/PhD, or DVM/PhD degree.
An application consists of the following elements.
a description of your past research experience, 1 single-spaced page maximum (if you have no prior research experience, just state this in this essay)
a statement of purpose, 2 single-spaced pages maximum. In this statement of purpose, please describe your current scientific interests, career goals, and reason for applying to PREP@UCD, include a brief statement that addresses how you satisfy the NIH eligibility criteria 4a, 4b, or 4c above, and include a one-sentence description of how you learned of PREP@UCD.

Please note that applicants who cite a disadvantaged background must specify which two of the NIH criteria C1-C7 contribute to your eligibility.

three letters of reference, with at least two from faculty in the sciences. If you've done research, please include a letter from a research supervisor.
transcripts (or unofficial copy) from all college or universities attended
a list of five PREP@UCD faculty with whom you would like to work.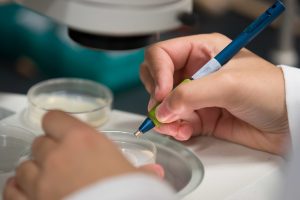 GRE scores are not required.
To increase their breadth in biomedical research, UC Davis graduates (or other students who have a prior connection to UC Davis) admitted to PREP@UCD will be placed in labs other than ones in which they did undergraduate research.
To apply: please go to https://recruit.ucdavis.edu/JPF03238.
Please note that we address a number of common questions on our FAQ page.
Applications will open on 1 December. Application review will begin on 15 February and continue until all positions are filled, with a hard deadline of 15 April.