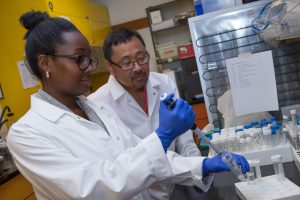 The PREP@UCD program focuses on research, with professional development to prepare scholars for success in graduate study.
Research
PREP scholars will begin research in July by learning basic skills in their mentors' laboratory and assisting with an existing project under the supervision of the faculty mentor and a senior graduate students or postdoctoral researchers as "coaches." Throughout the summer, scholars will work with their coach to frame and design an independent research project that could be completed by the end of the one-year program, with the PREP scholar having primary responsibility for day-to-day research tasks as well as intellectual input into experimental design and conclusions. The project will test a specific hypothesis, closely related to the coach's main research project, and generate results that contribute to a publication.
In the fall, scholars will participate in the UC Davis Molecular and Cell Biology Training Program retreat at Fallen Leaf Lake.
Scholars will present preliminary results in a poster at the Annual Biomedical Research Conference for Minority Students (ABRCMS) or meeting of the Society for the Advancement of Native Americans and Chicanos in Science (SACNAS), with a final oral presentation at a concluding symposium of PREP@UCD in celebration of the scholar's completed work.
Research tasks also will include regular attendance at laboratory meetings, seminars, and journal clubs. In addition, scholars will rotate with other laboratory members in making quarterly presentations of research results.
Professional development
In the summer, scholars will participate in a journal club on the future of biology, GRE review*, and professional development workshops. Scholars will also construct an Individualized Development Plan (IDP) and design their research project.
*apparently, the strikethrough was too subtle. We have ditched GRE review as a part of PREP@UCD. Why? Because as of January 2020, almost 300 biomedical PhD programs no longer require the GRE, with others expected to follow suit by fall 2020.
In weekly professional development workshops, PREP scholars will meet to discuss research activities, share successes, and develop approaches for addressing challenges. These meetings also will introduce PREP scholars to the graduate school application process, including selecting an area of research, identifying target institutions and potential faculty advisors, and drafting application documents.
Each PREP scholar will construct an individual development plan (IDP) using an online resource with refinements made throughout the year as the scholar's perspective in biology broadens. The IDP will take into account the student's undergraduate coursework, disciplinary interests, academic or professional skills, and interest in potential graduate programs. Because this document will be web-based, scholars can take it with them when they complete PREP and continue to refine and modify the IDP as they progress as scientists and professionals.
During the academic year, PREP@UCD scholars will continue professional development workshops, and receive training in professional communication and writing research proposals through a course taught in Fall. They also will be able to take one graduate or upper division course in winter and spring quarters.  These courses, offered through the College of Biological Sciences, College of Engineering, College of Letters and Sciences, School of Medicine, and School of Veterinary Medicine, with tuition and fees paid by PREP@UCD, span the breadth of the biomedical sciences and will enhance the disciplinary backgrounds of PREP scholars.